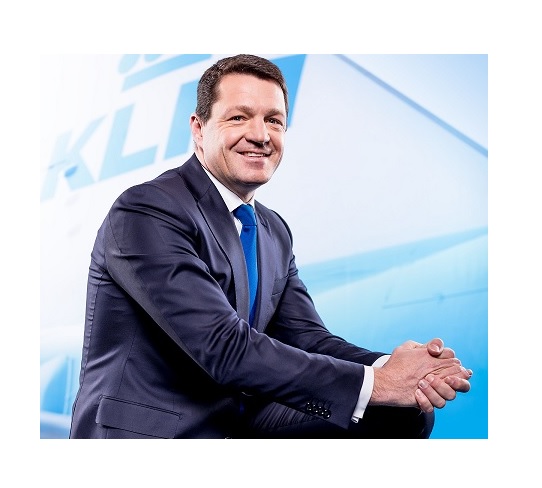 ---
"Growth springs from better recipes, not just from more cooking" -Paul M. Romer
Dear colleagues, In my column of 31 July, I shared the latest state of play in the four quadrants. Since the onset of the COVID-19 crisis, the quadrant structure has helped us maintain an overview and to communicate in these uncertain times.
Over the past two months, we have once again worked incredibly hard in every quadrant, taking everything a step further together. That's especially true in terms of cost savings, adapting our organisation, meeting the government's conditions and the restructuring plan.
We are in the midst of a profound crisis that has now dragged on for eight months. KLM colleagues have been forced to do their work under difficult circumstances. On top of that, the ongoing uncertainty has put a serious strain on us all, especially with the government announcing stricter coronavirus measures this week.
That uncertainty, combined with a determination to do our jobs as best we can, has been very apparent to me when chatting with KLM colleagues all over the company, on board as well as on the ground. This also comes across very clearly in the documentary series "KL2020: Back in the Air", the final episode of which airs on 12 October. The series highlights the commitment, professionalism and diversity of our company and staff.
This commitment, this blue heart, among our colleagues company-wide, at home and abroad, all committed to navigating KLM through this crisis, gives me energy and confidence for the future.
So let me start by expressing my heartfelt thanks to everyone!
Restructuring We shared the first sketches of our restructuring plan, "from more, to better", at the end of July. The plan is now complete. Today, 1 October, we reached a very important milestone: submitting the plan to Finance minister Wopke Hoekstra. In terms of content, the plan contains various ingredients such as a reassessment of the strategy, cost saving initiatives, financial matters and the implementation of the far-reaching conditions.
The 1 October deadline was one of the government's key conditions for extending the critical EUR 3.4 billion loan package. The ministry will now evaluate the plan. The basic premise of the restructuring plan is that our KLM business model is still valid and valuable, but that we explicitly need to take far-reaching and structural action to ensure its future success. After all, the impact of the corona crisis on the economy and aviation will reverberate for many years to come. It is vital that we prepare ourselves accordingly!
We will be operating fewer flights and reducing capacity for an extended period of time, and that means that we need a smaller KLM organisation ("sizing"). There will be pressure on revenues for quite a while, especially in the business market, so we need to become structurally cheaper and more efficient ("shaping"). The plan consists of various initiatives that will enable us to achieve this.
We have consulted with the Works Council on requests for advice related to restructuring the organisation. We are talking to the trade unions (8 unions, 3 CLA's) about the social plans and how to meet the government's condition regarding revision of our labour terms & conditions.
"We will be operating fewer flights and reducing capacity for an extended period of time, and that means that we need a smaller KLM organisation ("sizing")."
"Shaping" The aim of our restructuring plan is to ensure that 1) KLM survives this crisis and 2) we emerge from it stronger than we were before. This is why we kept five principles in mind when formulating the "shaping" section of the restructuring plan. KLM will be:
Every KLM division has worked on plans to make KLM more economical, more agile and more flexible. All departments got started, made plans and analysed them in the same way, producing 37 requests for advice. These plans entail a job change, changes to the organisation or even job loss for a large number of KLM colleagues and have been the subject of intensive and constructive discussions with local works councils.
The Works Council discussed and evaluated all the requests for advice. The restructuring plan is highly ambitious and there was immense pressure to meet the 1 October deadline. All 37 requests for advice have been conditionally approved, pending the completion of the social plan.
The manner in which we worked together on this, the quality of the content and the constructive approach of the employee participation bodies and the Works Council is worthy of great praise indeed. It really is a huge achievement to have produced such a comprehensive plan in such a short space of time. It gives great confidence to feel the urgency together and to arrive at a quick process together.
"Sizing" Over the summer we were able, step-by-step, to restore the route network even though the load factors are still far behind what we are used to. The goal was to achieve the 75~80% recovery planned for 2021 (still a reduction of more than 25% compared to 2019). Unfortunately, a reversal in the trend since September has forced us to scale back the increases we had planned for the winter. This means that passenger numbers and revenues are lagging behind. Countries have been imposing specific and 'uncoordinated' national restrictions, quarantine rules and testing measures in response to the rise in COVID-19 infections. This "uncoordinated approach" has created a great deal of confusion, which in turn has affected customer confidence. The reality is now in sharp contrast with the expectations we had for the industry back in the summer. KLM is experiencing a relapse and IATA has adjusted its forecasts even further downwards for 2020 and 2021.
Social plan This negative development has already forced us to reduce our winter capacity. Meanwhile, we have to seriously take into account the likelihood that we will not be able to return to the level we anticipated by summer 2021.
These changes to capacity forecasts are exerting even more downward pressure on KLM. In July we announced that we expected to cut around 5,000 jobs. We are now implementing these cuts through a combination of temporary contracts, a voluntary leave plan (VVR) and social plans. We have already had to bid painful farewells to a great many colleagues. However, we now have to take into account that capacity will drop even further, which will ultimately have a direct impact on the number of people needed. A further 10% reduction in capacity (i.e. -30~35% compared with 2019) amounts to around 1,500 fewer jobs. These are dizzying figures.
That means a second voluntary leave plan (VVR#2) has become a distinct possibility. It will focus on 1) specific jobs that will disappear or be reduced in number as a result of the requests for advice and 2) the number of positions still available for redundancy. We will communicate about this in greater detail in the coming period. This situation is also difficult for the unions, as far-reaching and challenging measures are required and previously concluded agreements must be adjusted or postponed. The conditions on labour apply for the term of the loans from the government.
In recent months, very intensive discussions have taken place about the necessary adjustment of employment conditions that everyone contributes to. This has led today to broad "agreement on the main issues" in all domains (Ground, Cockpit and Inflight) for the period up to/end of 2022. At Ground and Inflight, agreements have also been made about social plans. For Cockpit this is already covered in the CLA. All these agreements still require final approval from the members of the unions.
This is a very important step in the restructuring plan we presented to the Dutch government. That said, I thank the unions for this important step and the fact that they have taken the responsibility to do so.
Restructuring agenda As previously shared, the restructuring plan consists of ten initiatives. There is a detailed plan for each of these initiatives. In the coming period, after the assessment and response from the government, we will share this further in KLM both centrally and decentrally.
"Growth springs from better recipes, not just from more cooking" With this extensive plan, we aim to move "from more to even better": an even better customer experience, attention to hygiene, personal safety, sustainability and better digital interaction. We will focus on saving as many jobs as possible in the longer term.
In addition to our focus on recovery of our network (with all the current challenges; i.e. measures and restrictions), we will have to keep distinguishing ourselves in these areas. This means we must remain on course and pursue and sharpen our ambitions in these areas, redoubling our efforts. This is also important in terms of retaining our societal role in the Netherlands.
In summary
Our restructuring plan is ready and has been submitted to the government on deadline

Many people throughout the company worked very hard to achieve this

Together with the Works Council and divisional councils, our entire business was reassessed and detailed plans have been devised to structurally lower costs and downsize the company. This is laid down in 37 requests for advice, which have all been approved by the Works Council, pending the final approval of social plans.

A total of EUR 700 million in cost-cutting initiatives have been put forward to fulfill the condition of a reduction of 15% manageable cost. Some are temporary and others structural.

Sadly, thousands of our colleagues have left the company. Before the end of the year, we will have said goodbye, with pain in our hearts, to more than 4,500 dedicated and professional colleagues

In view of the current plans and adjusted outlook, we intend to open a second voluntary leave plan (VVR#2) shortly

We have reached agreement with all unions on key points with regard to revision of labour terms and conditions. This is very important in terms of our own plans and the essential government support Thanks to all these efforts and initiatives, we will weather this crisis, and we will also continue building the future:

moving from more, to better!

There is still a lot of work to be done, but this is an important milestone nonetheless. Thank you, colleagues, for your unremitting support, trust, dedication and loyalty.