---
A flight through 2019
Special moments
---
Innovation & Sustainability
20/3 - KLM Baggage Services implements the use of the first two of 34 fully electric baggage carts.

27/5 - Together with SkyNGR and SHV Energy, KLM participates in the construction of a SAF (sustainable aviation fuel) plant in Delfzijl.

4/6 - TU Delft and KLM start the joint development of the Flying-V, the energy-efficient aircraft of the future.

29/6 - Launch of Fly Responsibly, an initiative to work with all stakeholders on the more sustainable future of the aviation industry in a concrete manner.


26/8 - Introduction of renewed sustainable chocolate houses on board.

29/8 - Over a two-week period, KLM doubles the value that passengers pay for CO2 compensation for their flight.

13/9 - Thanks to the cooperation with NS and Thalys, KLM will replace one daily flight to Brussels with seat capacity on the Thalys train, starting on March 29 2020.

14/9 - Air France KLM returns to the highest ranking on the Dow Jones Sustainability Index.

5/11 - The 4th KLM Innovation Fair takes place in Hangar 10, with 60 booths and more than 1,400 visitors, a record attendance.

5/11 - Winners of the Innovation Awards: Prognos (use of big data to predict defects in parts), Queue management system (digital queue for Travel & Services and the lounges, so passengers don't have to physically stand in line) and the See it Say it app (an app for staff members to quickly and easily report unsafe situations).
Customer & Product
27/2 - Appy2Help is available on more than 500 iPads of KLM staff and ground staff at all international stations. This app enables them to provide customers with direct and efficient assistance.

31/3 - KLM offers its customers more travel opportunities in 2019 by expanding the network with six brand new destinations: Boston, Naples, Wroclaw, Las Vegas, Guanacaste and Bangalore.

5/4 - Customers with a Flying Blue Ultimate status were invited as our first guests to high class restaurant Blue in the KLM Crown Lounge to enjoy a dinner prepared by Michelin star chef Joris Bijdendijk.

1/5 - KLM and Air France offer Delta passengers a 'seamless' check-in. Passengers of our American partner can now conveniently check in online for Air France and KLM flights.

12/6 - Customers can now use Apple Pay in the KLM app for quick and easy payment of tickets and additional services.

21/6 - Air France KLM and AccorHotels strengthen their cooperation with a new feature: bundling the loyalty programmes for Flying Blue and Le Club AccorHotels members with 'Miles+Points'.

1/7 - The KLM Bus network is expanded and now includes Apeldoorn-Hengelo-Enschede. Customers can now also book flights to all KLM and KLM partner destinations from these cities.

2/9 - Cooperation with ASICS in the area of vitality for staff and frequent travellers.

24/9 - KLM and Schiphol inaugurate the first fully automated jetway, reducing passenger waiting time.

28/11 - KLM Crown Lounge fully opened: top quality comfort, catering, service and digital innovations for intercontinental travellers. A destination in itself.

5/12 - KLM is the first European airline to start using the Japanese social media platform LINE. Agents answer questions from passengers 24/7 and send out tickets and boarding cards.
Network & Fleet
31/3 - First flight to new destination Boston.

21/4 - First flight to new destination Naples.

6/5 - First flight to new destination Wroclaw.

23/5 - Network expansion China from 14 to 63
destinations, thanks to codeshare with China Eastern.

30/6 - The first of eight new KLM Boeing 787-10's arrives at Schiphol. The energy-efficient aircraft are named after flowers.

24/9 - Announcement of new destination Austin, Texas (starting in May 2020).

29/10 - First flight to new destination Guanacaste,
Costa Rica.

30/10 - First flight to new destination Bangalore, India.

20/11 - KLM Cityhopper orders 21 Embraer 195-E2 aircraft, with the option to purchase another 14. The E2 has more seats, offers onboard Wifi and emits less CO2.
Operational Excellence
10/1 - In 2018 KLM was named the most punctual airline in Europe (source: Flight Stats) and one of the safest in the world (source: AirlineRatings).

26/2 - In 2019 KLM earns 15 awards in every business category (Passenger Business, Cargo, E&M).

9/7 - The new aircraft of the Dutch government, the Boeing 737 BBJ PH-GOV, is ready for use. KLM will provide maintenance as well as the cockpit and cabin staff.

16/10 - All 20,000 KLM ground staff can now use the See it Say it app to quickly and easily report unsafe situations and contribute to a safer environment for staff and passengers.

16/12 - Operational performance excellence: better performance on days without disruptions than in 2018, quick recovery of regular services after disruptions and increased amount of flying hours per aircraft.

17/12 - 2019 shows a positive picture in terms of safety: the operations were carried out safely and we made great strides in occupational safety, for example by introducing the Safety & Compliance Manual (SCM) for building and construction activities on KLM premises.

20/12 - With the first landing of the fourth 787-10 on Schiphol, KLM safely and quickly added a total of eight new aircraft to the fleet in 2019.
People & Organisation
1/3 - Inauguration of new training facility at Schiphol-Oost, with two state-of-the-art Cabin Emergency Evacuation Trainers, built with real Boeing components.

8/3 - Signing of the charter 'Talent to the top' to ensure
more women in high level corporate positions.

5/4 - Launch of KLM walking programme: free walking and running trainings, boot camps, inspiration sessions and personal guidance for all staff members who wish to participate.

18/4 - Thanks to the excellent results in 2018, all staff members receive a profit share for the fourth consecutive year.


19/4 - Inauguration of the first Winning Way of Working
office, at Component Services in Hangar 14.

28/6 - International Workplace Pride conference in Hangar 10, underlining KLM's commitment to diversity and inclusion.

13/10 - 100 years of aviation in the Netherlands, meeting in Eye with KLM, GKN Fokker and NLR, in the presence of King Willem-Alexander.

11/11 - Inauguration of KLM Ground Services Training Center in ROCvA in Hoofddorp, attended by the KLM Management Group.

16/11 - After the Ground Staff Collective Labour Agreement there is now also a new Cockpit CLA.
Negotiations about the Cabin Crew CLA continue
.
3/12 - Start of the first KLM Female Leadership programme to promote more female leadership and a better balance between men and women in all layers of the organisation.

4/12 - Inauguration of Topside, the renovated building that houses Ground Services, KLM Cityhopper and International Stations with flexible workplaces, comfortable 'living rooms', ergonomic furniture and other features.
Facts & Figures
Renewed fleet with:

Awards:

4 new 787-10s
4 new 737-800s
& phased out
3 Boeing 747s
2 737-700s

Total fleet: 172
Boeing 787s: 17
Boeing 777s: 29
Boeing 747s: 12 (4 combi, 4 full freighter, 4 full pax)
Airbus 330s: 13
Boeing 737s: 52 + 42 Transavia
Embraers: 49


Welcomed on board:
35M KLM passengers
9.2M Transavia passengers

Network expanded with 6 new destinations:
Bangalore
Guanacaste
Las Vegas
Wroclaw
Naples
Boston

Total amount of destinations: 171
1.900 new colleagues hired


Chosen as the most attractive employer for 2019 based on the annual Randstad Employer Brand Research
AFKL achieved a spot in the top 3 of the Dow Jones Sustainability Index for 15 consecutive years and earned its number one spot in 2019
Attained the TripAdvisor Award for Best Business Class – Europe
Rewarded Travelers' Choice Major Airline – Europe



Social media fans/followers: 23 million
Social media agents: 350
Monthly active users mobile app: 961.195
Average weekly mentions: 200.000
24/7 online service in 10 languages, via WeChat, WhatsApp, Messenger, Twitter, KakaoTalk, Facebook, and as of December a 7th platform was added, namely: Line
Social media replies supported by AI: Over 50%

- The leading airline in using Sustainable Aviation Fuel


80.000 tons of CO2 compensated
678.000 trees planted
616 hectares tropical forest in total

Transported:
600.000 tonnes of cargo of which 57.000 tonnes of flowers
KLM100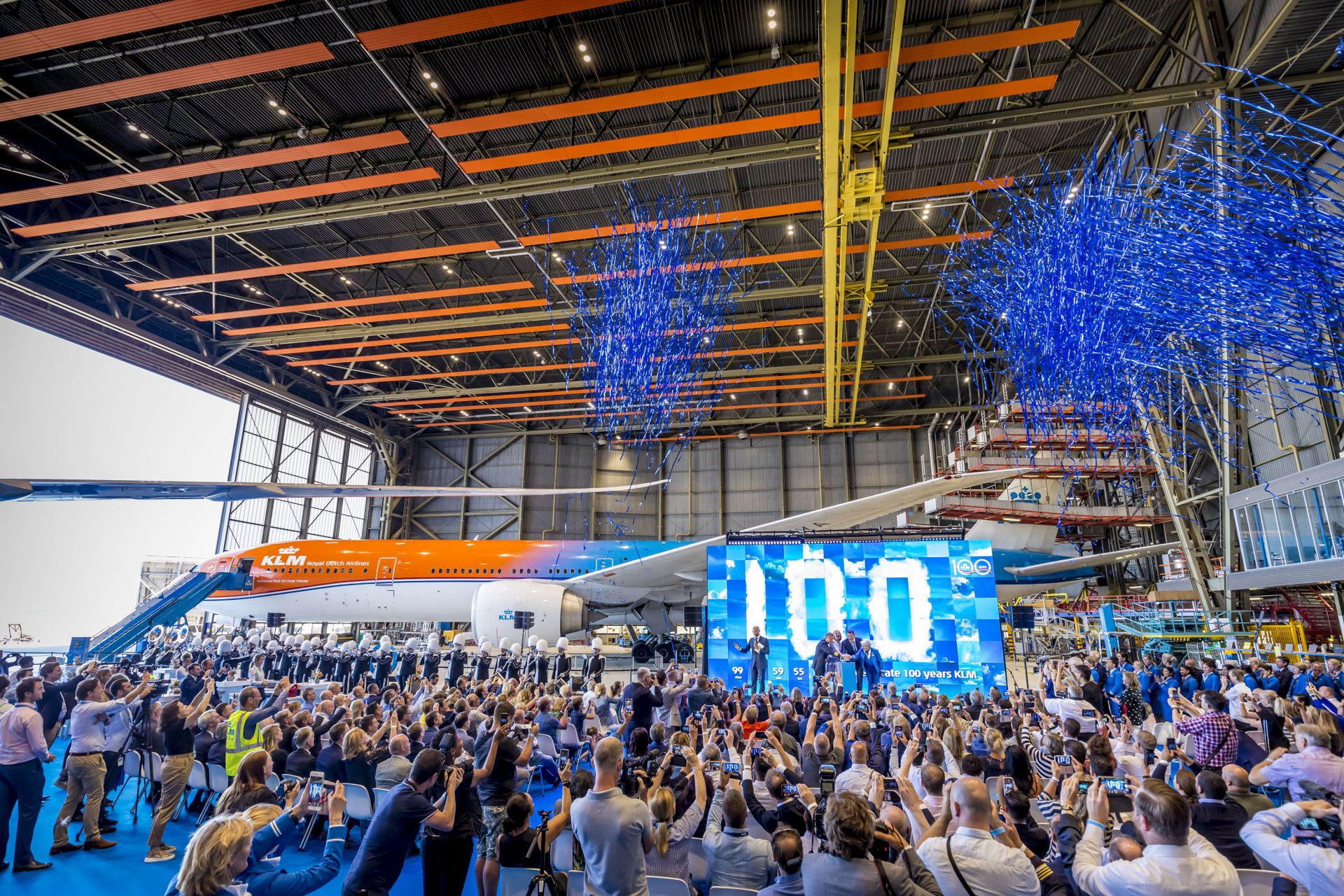 29/6 Exactly 100 days before October 7 the countdown begins to KLM's 100th anniversary, with a large event in Hangar 10, attended by Minister Cora van Nieuwenhuizen and other dignitaries.

30/6 The first KLM Boeing 787-10 arrives at Schiphol. This is the first aircraft in the fleet displaying the special KLM100-logo.

11/7 The Amsterdam City Archives inaugurates the photo exhibit "Let's fly away – a retrospective of 100 years of KLM passengers".

16/7 All KLM colleagues receive their KLM100 package at home, including a KLM100 pin and KLM100 key-cord.

2/8 The first winners of the KLM100 Game on the KLM100 NewsApp spin the Wheel of Fortune and receive their prizes.

3/9 A KLM Boeing 787 en route to New York hosts an onboard fashion show with crew members wearing historic KLM uniforms.

7/9 More than 2500 KLM colleagues from around the world participate in the Centennial Run in Amstelveen.

30/9 Schiphol presents KLM with two bronze sculptures to mark the 100th anniversary.

4/10 The KLM Experience days kick off, attracting a total of 60,000 visitors.

7/10 KLM100! A major celebration is held in Hangar 10 with presentations to launch the 100th KLM miniature house and the special anniversary book 'Welcome Aboard'. The celebration is attended by Minister of Finance Wopke Hoekstra and CEO Air France-KLM Benjamin Smith among others.

8/10 Special focus on KLM100 including broadcasts on CNN and RTLZ, special articles in newspapers and magazines and congratulatory messages from all around the world.