"

Maintain course and complete the journey - Albert Plesman
Successful Employee Event 2019
Around 2,000 enthusiastic KLM staff attended the Employee Event in Hangar 10 on 26 and 27 February. Judging by the many positive reactions from staff, the event was a great success. The combination of speeches and interviews with executives, the interaction with the audience, the fair consisting of great initiatives and food trucks, and the Recognition Awards presentation all generated a huge amount of energy and positivity.
KLM President & CEO Pieter Elbers opened the proceedings on both days. He started amongst the KLM staff and thanked everyone for their herculean efforts over the past year and for their support during the recent, turbulent weeks
Presentation by Pieter Elbers
In his presentation, Pieter answered three important questions: "How do we stand?" "Is this sufficient?" and "Where do we go from here?"
"We attained an NPS of 42, an EPS of 62, an operating result of around EUR 1.1 billion, an operating margin of 9.8%, and we welcomed no fewer than 34.2 million passengers. What's more, cargo traffic increased, revenues increased at E&M, and the number of cancelled flights decreased by 20%. Thank you all for that!"
"Our growth also allowed us to hire new colleagues. No fewer than 1,200 in 2018 – enough to give the company a fresh face. The EUR 3 million we invest each day is three times more than in 2014. That's something we can be proud of as well. We are investing it in our fleet, the Crown Lounge, WBC seats, IT, a crew training centre, and much more. Every division at KLM has seen improvement."
Where do we go from here?
After sharing these great results, he looked ahead: "Today, I also want to tell you whether what we're doing is sufficient, how we should proceed this year, and how each of us can contribute towards that. We are focusing on five priorities: sustainable growth at Schiphol, healthy financial management, transformation (people and technology), close cooperation within the AFKL group (by this I mean that the whole is greater than the sum of its parts), and an integrated approach to running the business. Close cooperation with Air France is essential. As Albert Plesman put it: 'The ocean of the air unites all people.'
After that, CFO Erik Swelheim and COO René de Groot shared their insight into KLM's status and what we will need to do in future. Under the guidance of presenter Rens de Jong, they discussed the themes in detail. Between the talks, they shared some amusing KLM facts and took questions from the audience. They also offered a sneak preview of the latest TV commercial for the Dutch market. Finally, innovation expert Jim Stolze inspired everyone with his view of digitisation.
Money matters
KLM posted excellent results last year. Erik Swelheim: "In view of these figures and our turnover of EUR 11 billion, we had a great year. So, we can invest strongly using our own equity and pay off some of our debt. All of this is possible as a result of our enormous increase in labour productivity to which every KLM employee has contributed. I can look back at the past year with satisfaction. Nevertheless, I want to be cautious about the future. Right now, fuel prices are rising and economic growth is declining. It's important that we pay extra attention to costs this year, for instance by limiting the number of disruptions. This will reduce the amount we spend on reimbursing passengers for hotel costs. We also need to sign contracts with suppliers that are as favourable as possible, while cooperating with them on product innovation. We should treat this money as if it were our own."
Safety
Safety remains KLM's top priority. René de Groot: "Every year, we end high up in the international rankings for the safest airliner. We are performing well in terms of operational safety, but there is still a lot to be gained in the working environment. There are still too many accidents every year as a result of collisions, falls, trips and slips. It is therefore important that you report any unsafe situations, also in offices, and that you confront your colleagues if you see them doing anything unsafe."
Schiphol
KLM's further growth at Schiphol will not be possible until 2020. René: "The airport has reached its ceiling of 500,000 flight movements permitted each year. The number is laid down in the 2008 Alders Agreement. The Schiphol Environmental Council – the ORS – has attempted to reach a new agreement for moderate growth with all the parties involved. Unfortunately this did not succeed, so the minister himself will have to make a decision about Schiphol's future and that may take some time. Meanwhile, it is of great importance to KLM to improve internal operational processes at Schiphol, so that we are fully prepared for any possible growth. Even if we look at alternative locations, it is clear that moderate growth at Schiphol is really necessary."
Sustainability
KLM has been highly aware of climate change for many years. We are therefore committed to running a sustainable operation. René de Groot: "This is why we have been investing in sustainability for years and will continue to do so. KLM is an industry pioneer in this area. We have been following a climate action plan since 2007, which is aimed at cutting CO2 emissions by no less than 20% per passenger by 2020. We have already managed to reduce CO2 emissions by 18% per passenger and we will definitely reach the 20% target by next year. Since 2009, KLM has also been actively producing and using biofuel. This is something we can be really proud of! We aim to make KLM the most sustainable airline in the world, so that those who do choose to fly prefer to do so with us."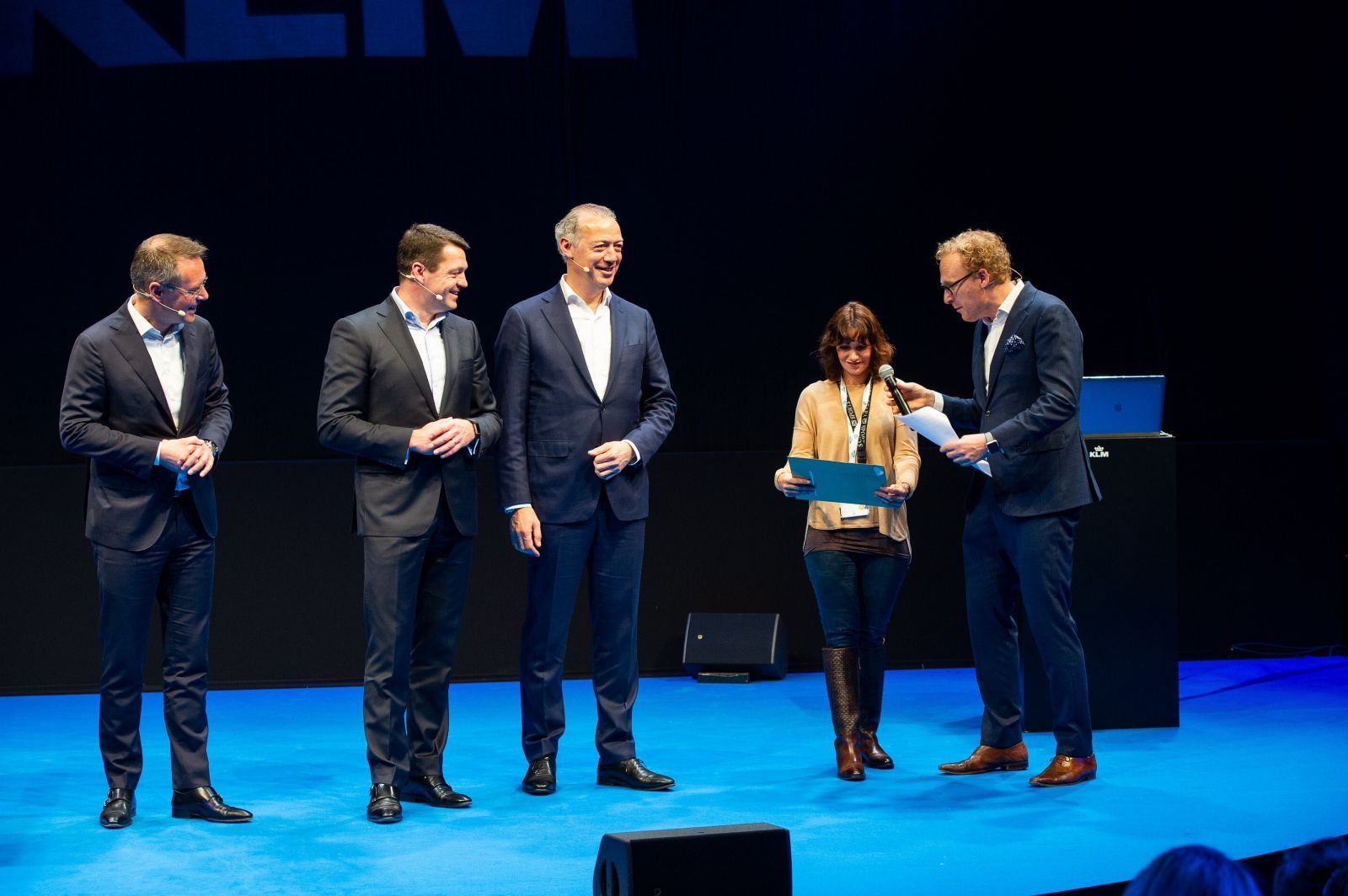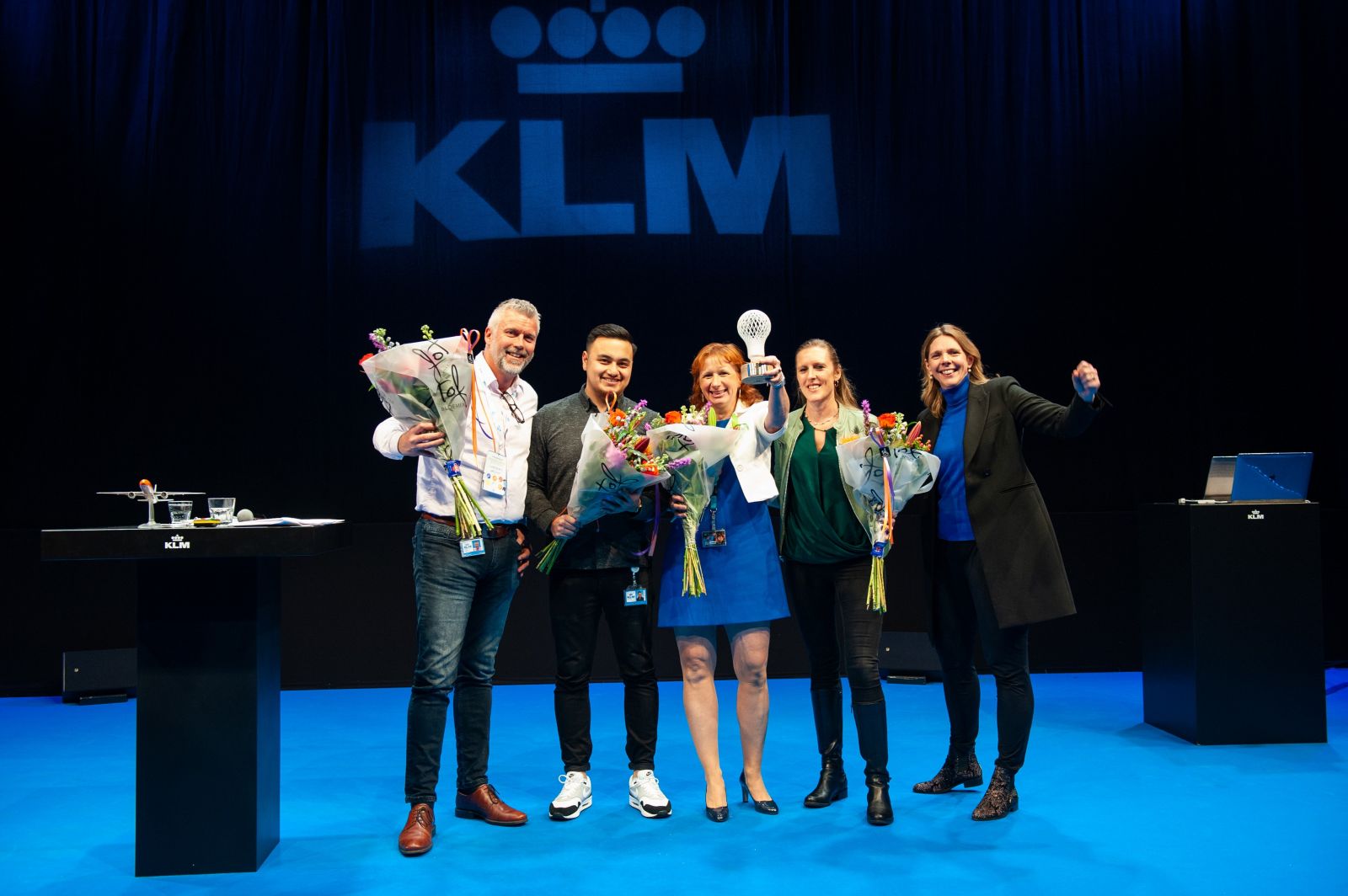 Recognition Awards
Then it was time for the presentation of the Recognition Awards. The category Customer Experience was won by Rimalda Bent, who ensured that 100-year old "Oma Toelsie" was able to make an unforgettable journey to the land of her birth, Suriname. The Sustainability category was won by Paul Pereira Filipe for developing a Battery Test. The category Innovation was awarded to a team – Heidi de Ridder, Debby Knol, Levi Pluim Mentz and Peter Lommers – which developed the MyRoster app, giving ground personnel clear insight into their work roster. Fit4Crew by Massimo Molinari won the category Fit for the Future. Massimo offers crew members the option of exercising together under his guidance when they're travelling. The final category, Diversity & Inclusion, was won by Rob Verleg, Can Ozcifci, Gonny Hoekstra and John Cornelissen, with their idea for the Golden Bay, a work area at Cargo reserved for older staff, where they can work at their own pace and their combined wealth of experience is retained for the division.
The Employee Event ended with the announcement that there was no less than EUR 168 million to be distributed under the profit-sharing scheme! This is equivalent to around one-and-a-half month's gross salary per KLM employee. A wonderful reward for everyone's hard work!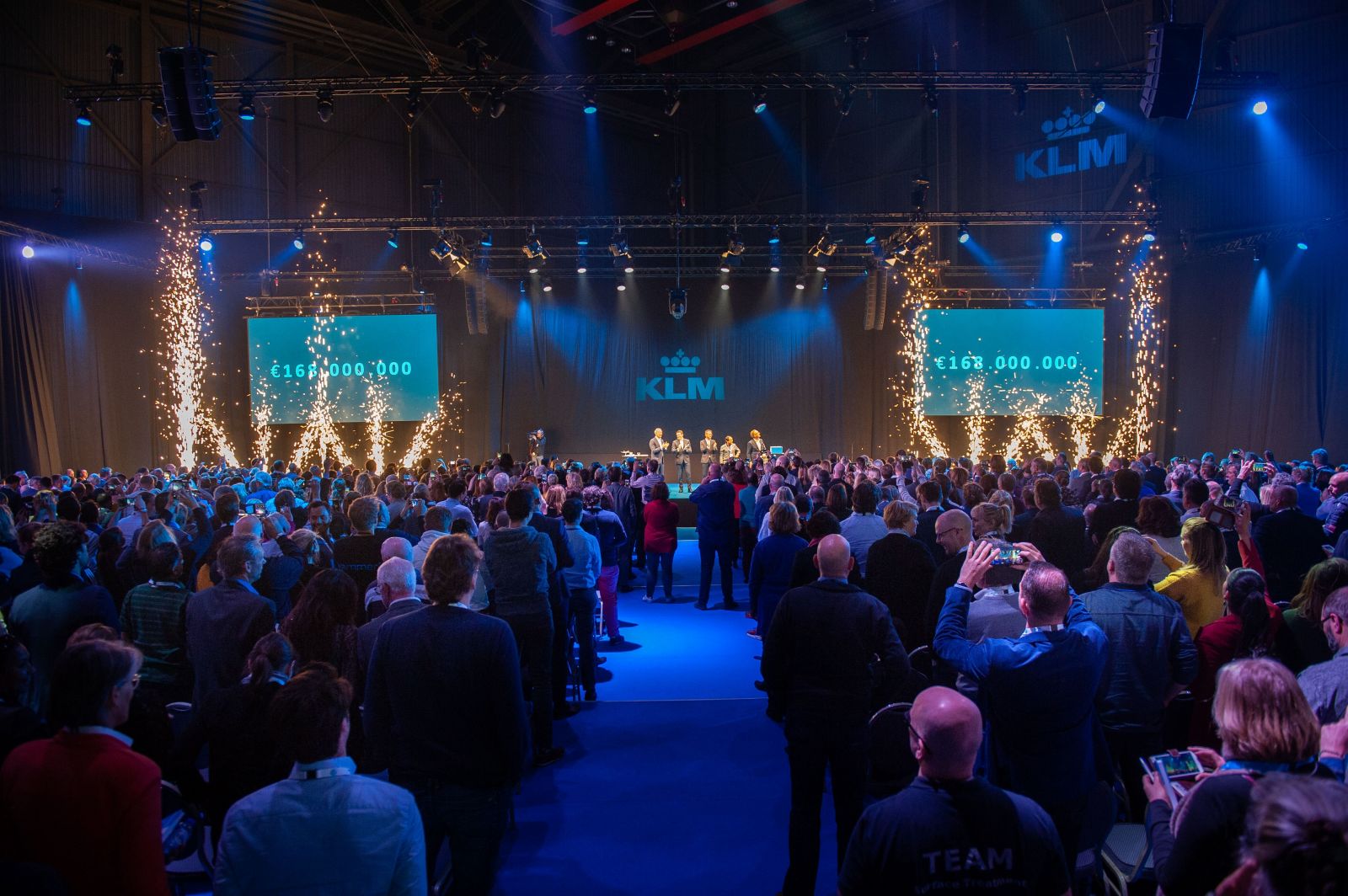 Maintain course
Finally, Pieter Elbers summed up our missions – saving costs and investing in our customers and employees. "It is clear that we have all made tremendous progress. With today's inspiration, we also know what we need to do to move ahead into the future. As Albert Plesman put it: 'Maintain course and complete the journey.' Let's maintain this course together, put our shoulders to the grindstone, and ensure that we reach KLM's 100th anniversary fit and healthy.".