Innovation & Sustainability
UNIT COST INCREASE < 1.0% VS. 2018
OPERATING MARGIN ON BUDGET
POSITIVE FREE CASH FLOW
1.3 BLN € INVESTMENT IN 2019
FOCUS ON RETURN ON CAPITAL EMPLOYED
OPERATING MARGIN IN LINE WITH EUROPEAN PEERS (F.I BRITISH AIRWAYS AND LUFTHANSA)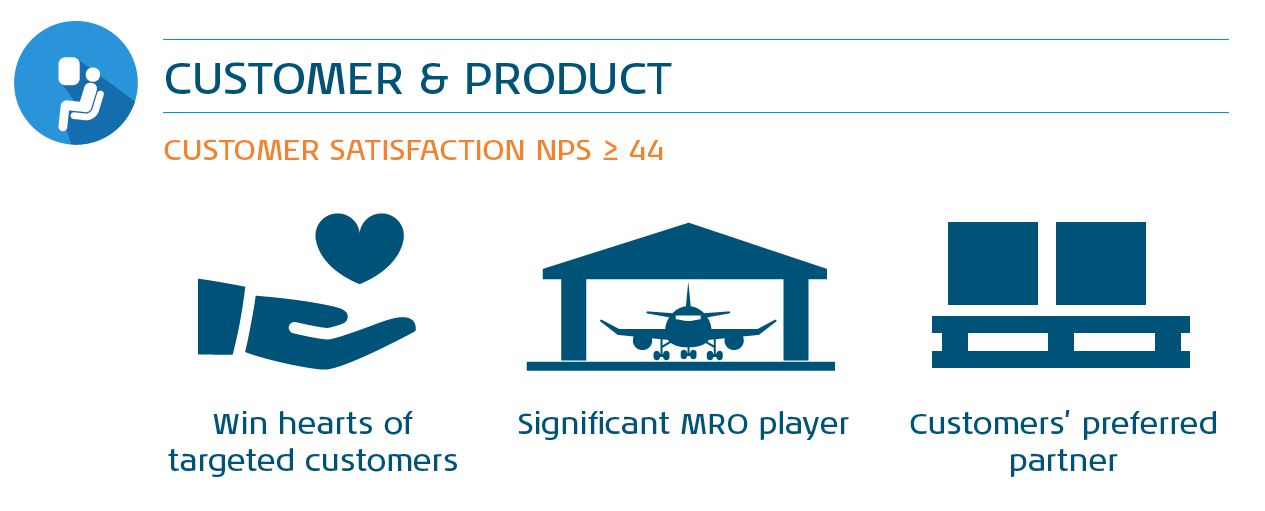 Passage
Win the hearts of our targeted customers and excel in customer intimacy by focusing on integral customer journey priorities.
Implement the Customer Priorities Roadmap 2019: Customer offer/Personalisation through digital solutions/Booking, Airport/Baggage, Flight, Customer Care and Disruption handling

Roll out the Journey Analytics Program and better customer recognition tooling, data and digital solutions

Improve customer experience at our hub

2 million Flying Blue members in NL

Brand campaign home market: 'KLM = at home & life-long loyalty and sustainability'
E&M:
Provide competitive aircraft maintenance support for AF & KL and be a significant MRO player in the market contributing to AF & KL results.
Attract new customers by focusing on our new products (e.g. 787, 737MAX) and increasing market share of our current products
CARGO:
Be our customers' preferred partner by delivering our promise in a transparent, easy to connect way at competitive prices, maximising contribution to AF & KL.
Implement area action plans and tap potential through development of online services and targeted offers for Small & Medium Enterprises

Take the next step in creating competitive advantage for Pharma and the Fresh segment.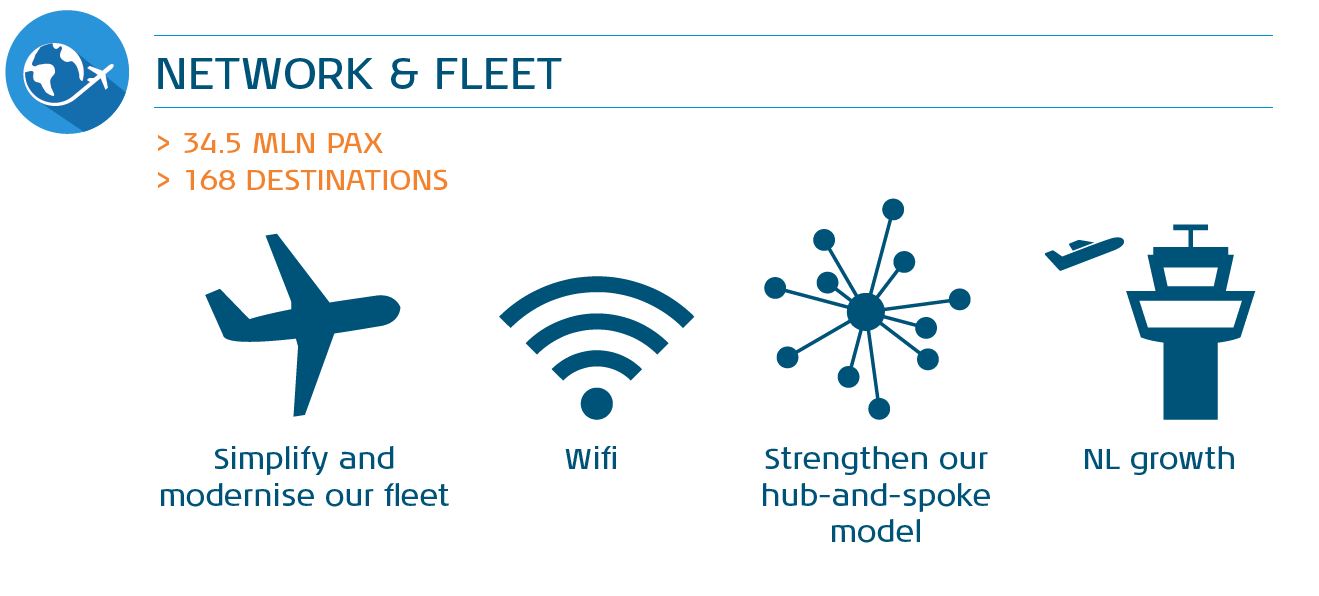 Strengthen our hub-and-spoke model by increasing the agility of our network and simplifying and modernising our fleet
Improve and optimise use of KLM (Group) slot portfolio with focus on creative ideas for slot growth and maximum influence of the sector

Pursue opportunities for growth at AMS with relevant stakeholders

Further develop domestic feed (bus & train)

Ensure efficient, customer friendly operations in line with our sustainability ambitions, by modernising fleet and phasing in:
- 4x B737-800
- 4x B787- 10

Improve onboard customer experience by incorporating wifi in long haul and studying business case for short & medium haul

Ensure an agile and optimal network by developing optimisers for schedule, fleet, slots and codeshares

Increase our Cargo business with strategic partners (DL, CZ, 9W, KQ) by setting up a partner governance structure and implementing applicable roadmaps

Extensive seam reduction in booking and travel experience between partners
Deliver our customer promise safely, effectively and at the lowest integral cost by integrally reshaping all products, processes, control, organisation and information.
Minimise Serious Incidents & Serious Occupational Accidents

Improve safety performance by execution of mitigating actions and related safety assurance

Improve turnaround performance at the hub and outstations for EUR & ICA

Further improve operations and hub control by maximising use of decision making tools to manage increased complexity on the Day of Operation

Increase network utilisation and optimise ground time and available flight hours by using predictive maintenance, stabilising/ improving A&C-check performance and lowering total amount of DD's

Increase and stabilise operational performance by stabilising and decreasing the Turn Around Time at Engine Services, Component Services and Airframe (A&C-check)

Deliver Cargo shipments as promised ≥ 81.9%

Cargo digitisation: E-AWB > 70%, E-freight > 10%, MyCargo share > 14% and E-Acceptance > 90%

100% Equation via sorter

Reduce costs by simplifying our processes and improving efficiency with digital solutions

Empower our operational staff and make them truly mobile with digital solutions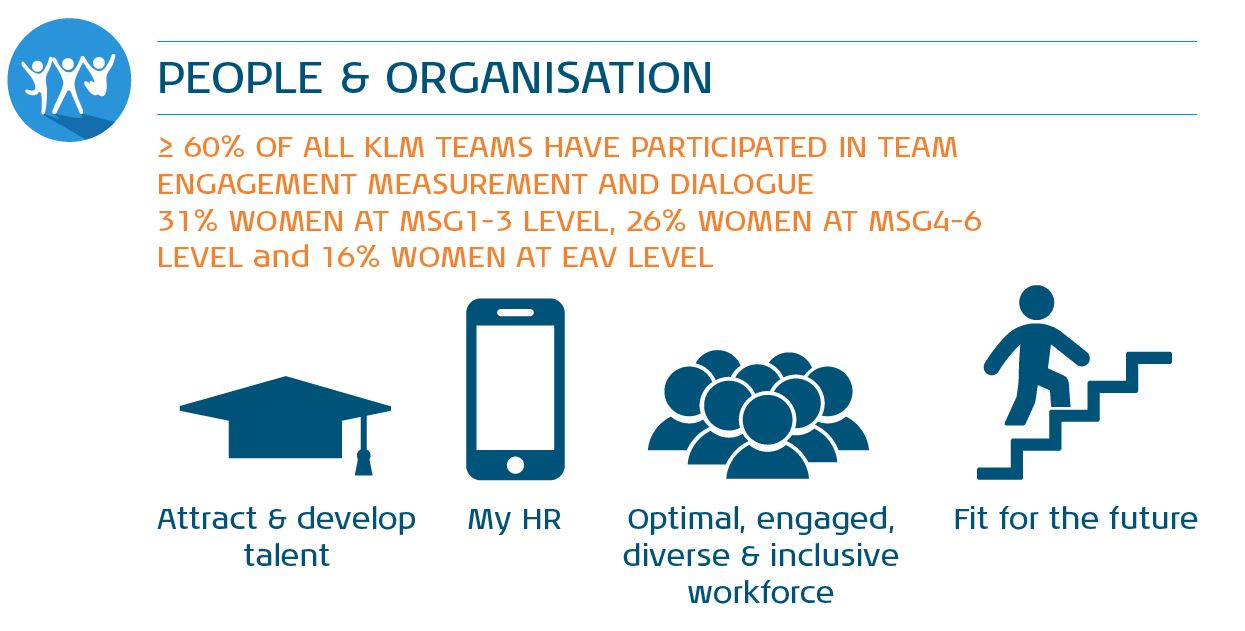 Empower employees to be "the best of themselves" by creating an optimal, engaged, diverse and inclusive workforce that fits strategy execution and acts in line with the KLM Compass
KLM EPS ≥ 65

12 month average sick leave -1.0% vs. 2018

Embrace and leverage the power of diversity and inclusion by creating awareness, diverse recruitment & talent management and by implementation in teams and governance

Improve occupational safety and health performance by mitigating top 10 occupational Safety & Health related risks, executing safety assurance per division and implementing occupational policies

Continue implementing Winning Way of Working, focusing on behaviour and the transformation of work environment and supporting facilities

Secure KLM Compass in company-wide programs, tools and interventions

Make (digital) HR processes more easy to deal with

Implement Strategic Workforce Planning Solution and thus attract and develop (digital) talent and achieve a workforce that is fit for the future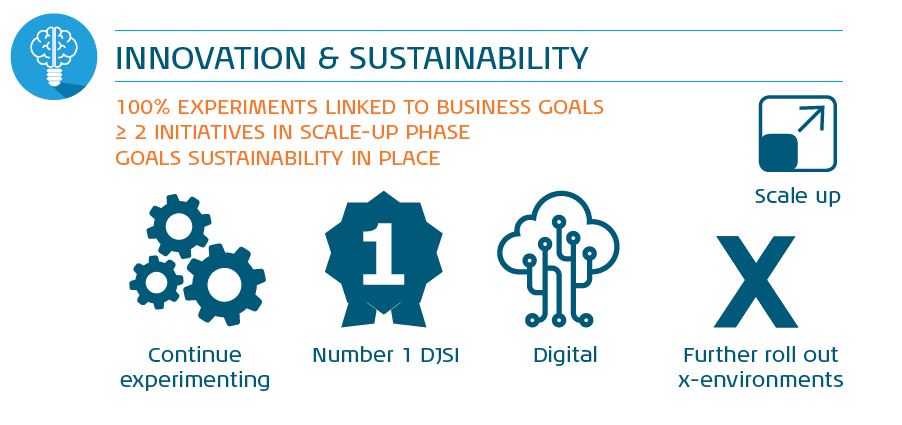 Improve our (radical) innovation ecosystem by maximising the learnings of experiments that focus on (longer term) business goals
Bring Operational Excellence to the next level by establishing one validation mechanism and further rolling out X-environments

Increase power and speed of implementation of our improvement tracks by setting priorites

Drastically improve IT architecture by further developing and modernising 'transaction systems & back-ends'

Continue to accelerate and stretch integral digitisation with digital studio as incubator

Create one version of the truth for financial reporting

Invent new repairs on parts by using new technology capabilities (e.g. 3D scanning, printing & plastic repairs, additive manufacturing)

Create training modules using virtual reality

Speed up development and time to market by optimal use of external partners (start-ups)

Continue experimenting with and start scaling new technologies
Maximise societal support for growing KLM at Schiphol by implementing a multi-dimensional approach
Become No. 1 on DJSI

Improve the environmental footprint of our operations by electrifying ground equipment, Dry Operating Weight, recycling & waste reduction, route development, improving takeoff/landing procedures and adjusting/ revising European and Dutch airspace

Develop CO2 offset program for Cargo customers

Start implementation 'Slim en Duurzaam' program

Support development of biofuel factory by committing to use of produced biofuel