Since the launch of its new strategy in 2015, KLM has substantially upgraded the quality of its product and services year after year. KLM has invested in staff training, new aircraft with more comfortable cabins and entertainment systems, full flat seats in World Business Class, better customer support via social media and myriad digital tools that empower both customers and frontline staff. By closely aligning these improvements with KLM's operational processes in areas like disruption management, boarding and baggage handling, KLM was able to increase its Net Promotor Score from 35 in January 2015 to 42 in December 2018. KLM was able to increase its Net Promotor Score from 36 in 2014 to 42 in 2018
In 2018, KLM focused on six priorities: personalisation, booking, airport processes, in-flight, baggage and disruption handling. Based on a gap analyses between the service expected by customers and actual service received, KLM initiated a number of improvement projects.

Personalisation
Customers expect personal treatment across their entire journey, from the moment they book, to the actual journey, upon arrival or when things go awry. In 2018, KLM trained staff to offer even more personalised support. It also implemented the new European privacy law (GDPR) to ensure that the data of our customers and our employees are safeguarded and began using the Voice of the Customer methodology to respond more quickly and personally to customer feedback.
KLM, already one of the most digital airlines in the world, further strengthened the 24/7 availability of customer support across a range of digital platforms in no fewer than 10 languages. This led to a further shift of communication to digital channels, with 50 per cent of boarding passes now issued via messaging apps, 30,000 people getting flight updates on their mobile device each day and KLM increasing revenues via mobile devices by 86 per cent.
Paradoxically enough, KLM achieves more personalisation through cutting-edge technology. KLM uses a self-learning artificial intelligence tool that suggests answers to common customer queries, which are checked and amended by staff before being sent back. This has allowed social media agents to reduce the average time spend on a question with 12 per cent and engage more with customers when they need it the most. From the outgoing messages 50 per cent is handled with support of artificial intelligence.
Booking
In terms of booking, KLM wants to meet customer demand for ease of use, transparency and personalised offers and services. To this end, it embarked on a massive and strategically crucial project to launch new distribution channels and to merge the IT infrastructure of Air France and KLM. Some 37 per cent of all tickets are now sold online and KLM.com receives some 192 million visitors per year.
Airport processes
Customers demand easy and efficient boarding, short waiting times and a memorable experience at Schiphol Airport, the hub of our international network of destinations. In 2018, KLM celebrated the opening of the first phase of its flagship Crown Lounge (see story KLM Crown Lounge) and began designing a new European lounge.
KLM worked hard to ensure passengers have an easier journey whenever possible. That is why this year KLM began testing Green Light Boarding, which shaves crucial minutes off the boarding process through better communication between staff. KLM also explored the use of biometric techniques to give customers a smooth journey.
In addition, KLM is preparing the introduction of pre-clearance at Schiphol Airport. By clearing US customs at Schiphol Airport, passengers will be able to enter the US significantly faster, allowing KLM to expand its US network. Working closely with Schiphol Airport, and the Dutch Ministry of Justice and Security, KLM is looking forward to testing this concept in practice.
In-flight experience
During their flight, customers expect a personalised and connected cabin, comfort in World Business Class and personal updates during their flight schedule. To meet these expectations, KLM added in 2018 full flat seats to its Airbus A330 World Business Class, which led to a further increase of the NPS. Where the Boeing 787 fleet is already connected, KLM began adding Wi-Fi to the Boeing 777 and Airbus A330, slated for completion by the end of 2020 and 2021 respectively. KLM began preparations for the arrival of four new Boeing 787-10 aircraft in 2019, which will be equipped with Wi-Fi as well as new seats, privacy screens and direct aisle access in World Business Class.

Furthermore, the personalised Anytime for You meal concept, introduced in 2017 on two destinations, which allows World Business Class customers to have meals whenever it suits them, was such a success that it was offered in 2018 on two more destinations. In 2019, flights to and from Shanghai and Cape Town will also offer Anytime for You. KLM Cityhopper, meanwhile, upgraded its business class meal.
In 2018, in close cooperation with staff representatives, KLM completely redesigned the economy class service on intercontinental flights. With the start of the winter schedule in October as a deadline, KLM developed a delicious meal using sustainable ingredients on trays that are lighter and easier to serve. This seemingly simply innovation was preceded by rigorous in-flight testing, the redesign of the catering supply chain at Schiphol Airport and more than 100 outstations, and the design and sourcing of lighter cutlery, bowls and trays.
Baggage
Customers expect an easy hand baggage experience, up to date information about the whereabouts of baggage throughout the journey, an easy reclaim of baggage and flexibility in how baggage is transported door to door. In 2018, KLM communicated its hand baggage policy more clearly and developed operational tools that can predict the amount of hand baggage on a flight. KLM also began a pilot using RFID technology that enables real-time track and trace of baggage. Thanks to Augmented Reality (AR) technology, customers can also check their size of their handbaggage with KLM's AR handbaggage check via KLM on messenger and the KLM app.
Disruption handling
Congested skies, a growing number of flights and extreme weather can cause disruptions to KLM's schedule. In such an event, customers expect timely information, personalised solutions, easy recovery and a pleasant waiting time. To meet these needs, KLM in 2018 introduced a range of measures, including leveraging artificial intelligence driven social media to provide flight status updates and more demanding service level agreements for KLM's customer call centres. The iCare system that automates the handling of recovery cases was further rolled out as well. As a result, KLM can rebook a customer five times faster than in the past.
Digital innovation
In the area of social media and digitisation KLM made great progress. One major achievement was the introduction of a new distribution strategy. This enables KLM in developing new distribution capabilities that allows for more direct engagement with customers, thereby increasing customer intimacy, and quicker response to the changing needs of customers. Key to this is the creation of an ecosystem of airline and non-airline partners, for example through joint ventures in customer data, the ability to offer personalised offers that recognise and entice customers and the ability to sell value-added service.
After years of investing in new joint AIR FRANCE KLM IT architecture and APIs for partners, KLM started rolling out the new booking flow. In line with customer expectations this is faster and leads to better conversations with the 192 million people that visit the KLM.com website each year. The website recently celebrated its 20th anniversary in 2018.
KLM extended its social media lead by adding Line, one of the main social media platforms in Japan and important for boosting flights to KLM destinations. KLM is the first airline outside China offering 'WeChat Pay', which makes it easier for KLM's Chinese customers to book a ticket, which accounts for 13.7 per cent of all online sales in the Chinese markets.
Finally, AIR FRANCE KLM introduced a joint, revamped Flying Blue loyalty program to offer more simplicity and flexibility in the use of the program, a clearer reward scale and more choice in the use of reward miles. The number of miles no longer depends on distance flown but on money spent, and miles can be used towards the purchase of additional flight services in addition to the actual flights. Flying Blue now has 15 million members.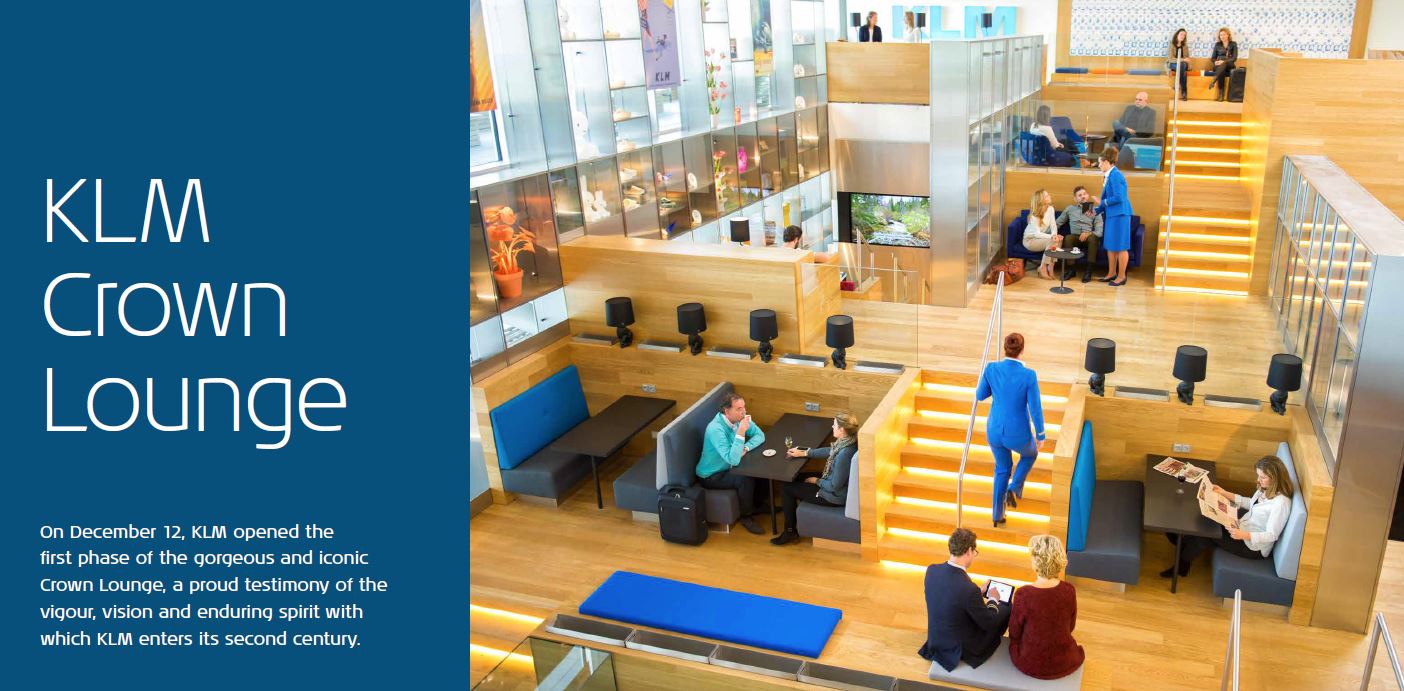 The story of the design and construction of the Crown Lounge is in many ways the story of how KLM once more became a successful airline brimming with self-confidence. It is also a celebration of Dutch culture and the deep care KLM feels for its passengers.
Elvira Buis, Customer Journey Manager, says KLM and Schiphol Airport began to prepare for what would become one of the airport's largest construction projects in 2012. "More than 100 KLM employees have been involved, from designers to programmers in India, to create this beautiful new home for our World Business Class passengers."
The lounge is a three-storey house with a marvellous glass front, its shape a gentle nod to the canal houses that Amsterdam is famous for. Wedged into Schiphol's frame, the lounge is an immediate eye catcher and a bold celebration of world-famous Dutch design.
Sustainability is also a key feature of the lounge. It is built using natural materials such as stone, FSC-certified oak wood and leather, which last long and become more beautiful over time. The furniture and carpets are made from recycled materials. Also, the lounge is lit using energy-efficient LED lighting.
Dutch culture pervades every corner of this architectural marvel on purpose. "Many of our customers are in transit and we want to give them a taste of the Netherlands." The lounge, for example, features a two-storey showcase that celebrates Dutch Design and the KLM brand. Next year the City, the food and beverage area, will feature acoustic panels decorated with scenes from famous Dutch museums such as the Rijksmuseum and the Van Gogh Museum.
Ultimately, though, the lounge was made for premium customers and they are in for a treat. Not just because the lounge is kitted out with homely furniture made from natural and sustainable materials, but also because of the innovative, customer-centric service concept that marries personalisation with digitalisation.
The old-fashioned lobby desk where customers wait in line has made way for an open space where customers can request service at a kiosk and sit down, while waiting for a personal lounge assistant to approach them. Within a few months, customers can also use their personal device to request service via the KLM lounge Guide and a location-based mobile service will automatically pinpoint their location.
"We wanted customers to have a faster, more convenient and efficient experience, so we especially recruited and trained agents who will pro-actively engage with the customers." Armed with iPads and KLM's famous personal touch, these agents will truly create a memorable experience for customers.
That experience is enhanced by the many features of the lounge, including a separate TV room and a unique terrace across the full width of the lounge with an exciting view of the aircrafts on the tarmac. "Customers told us they wanted to be able to go outside and we made that happen."
And there is more to come. In the summer of 2019, the second and final phase of the lounge will open when the third-floor à la carte restaurant, serving high quality food and bar will open. "We selected Dutch caterer Vermaat to create a premium dining and bar experience that customers will love." Also the area for customers to refresh and recharge will open by then.
Once the lounge is fully operational, it will offer room to 1,500 customers on 6,800 m2, of memorable space, up from the 680 people and 2,500 m2 of the old lounge. All in all, this marks a fitting start to KLM's second century as a leader in global aviation.