KLM accelerated the pace of innovation with investments and experiments in IT architecture and digital apps. This empowers staff to give customers memorable experiences and to engage more efficiently with one another across divisions and teams. In 2018, KLM aimed to create more cohesion among these parts and add new experiments based on artificial intelligence, virtual reality, augmented reality, blockchain and the internet of things.
KLM distinguishes between two types of innovation. Step change implies an incremental improvement of existing processes, such as those commonly found in KLM's operation. An example of this is the introduction of the X-Way of Working to develop innovative solutions to operational constraints in the live environment of Schiphol Airport.
Radical innovation, meanwhile, is designed to generate new opportunities, ecosystems and business models linked to KLM's future growth. These are essential to keep KLM relevant in an aviation industry being transformed by fierce competition, demands for customer-centricity and other powerful forces.
In both types of innovation, KLM conducted or began to prepare for a number of experiments in 2018. Many of these were initiated and led by KLM's Digital Studio, which brings together hundreds of staff in a bid to take KLM where it has never gone before.
Robotic Process Automation
Robotic Process Automation (RPA) has been taken very close to production in 2018. This technology aims to relieve KLM employees from repetitive tasks, like copy-pasting large amounts of data between different computer systems or printing out luggage labels. Several automated systems have been developed in order to realise this. This technology has already proven to be a real time saver and upgrades the work experience. The aim is to further roll out RPA on a larger scale in 2019.
KLM also conducted experiments based on the blockchain technology, a digitally encrypted ledger that allows for the secure and decentralised distribution of information. The first results are interesting. Within Engineering & Maintenance, this technology was used to create a global single shared data view on the movement of components through its lifecycle, to lower costs and administrative workload. KLM Catering Services used blockchain to create the backbone for a system that traces food from farm to fork. It was also used to create a distributed platform for issuing and exchanging digital tokens between partners during flight disruptions and to automate inter-company transactions to improve financial integrity.
In addition, KLM used blockchain to safely treat customer biometric data in the Known Traveller Digital Identity program of the Dutch and Canadian governments in conjunction with the World Economic Forum. The program aims to solve airport security inefficiency by developing an improved security flow, including a pre-clearance solution, biometric scanners, a digital passport stored on a mobile phone and the secure exchange of sensitive data. In 2019, KLM will continue with these experiments and scale them, possibly with external partners.
Customers
Customers benefited in more direct ways from KLM's innovation efforts. In 2018 passengers were empowered by augmented reality to use their mobile device to determine whether their hand baggage has appropriate dimensions, while on the lighter side KLM launched Tune into your Travel in Facebook Messenger, a first-of-its-kind augmented reality travel channel that projects animated characters and landscapes that users can interact with. KLM launched three new services in English on the Google Home, all of which have been developed using artificial intelligence and KLM technology. Customers can now use voice commands to search for and book a KLM flight. They can find a suitable travel destination based on the flight duration, budget, travel date and preferred travel theme. Furthermore, KLM provides advice about how to pack your bag based on your destination, trip duration and the local weather forecast via the Google Home.
Operational support
Innovation also found its way to many other parts of the organisation. Managers and staff are empowered to discuss team dynamics with the new WhatsUp tool for using the Employee Promotor Score. Career Market Place is introduced to create visibility and transparencies in vacancies within KLM and the MyRoster app is used by 11,000 staff to quickly check their roster on their phone. A new safety app is built for staff to easily report safety concerns.
Within the Cargo business, in order to simplify the daily life of the customers and staff, KLM Cargo implemented a digital acceptance tool to get e-acceptance off the ground. Virtual reality helps KLM Cityhopper to speed up crew training and finally MySearch is developed for the HR department.
Aircraft, meanwhile, have so many parts that maintenance crew need many manuals. Last year these became available on iPad and KLM began to experiment with the HoloLens, a wearable device that projects holograms into a user's field of vision. Short battery life, however, meant the device was not very practical yet. Instead KLM set out to get an iPad to recognise aircraft parts using the camera, then take it directly to the right page in the manual and show a 3D model of how the part works.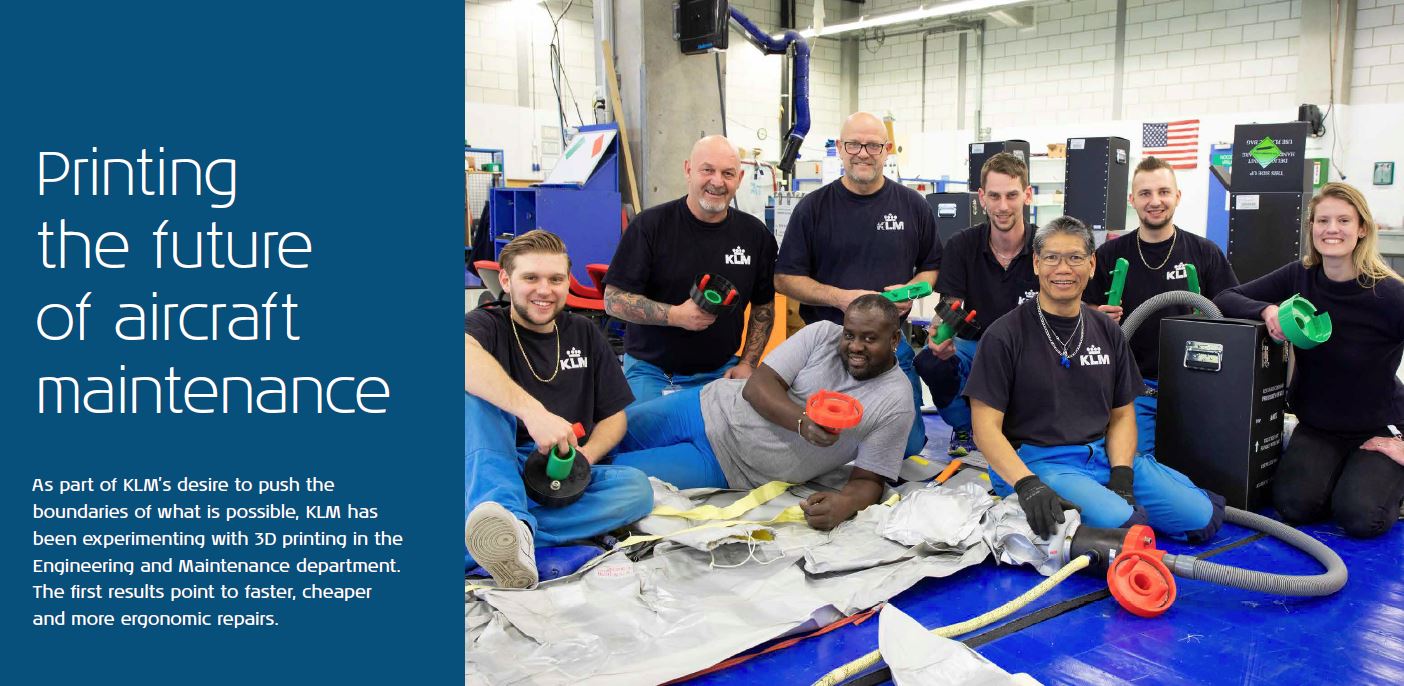 Do yourself a favour and watch a time lapse video of 3D printing: as if guided by an invisible hand, layer by layer, solid objects magically appear out of thin air. KLM was intrigued by the possibilities of 3D printing and explore how it could be used in the maintenance of aircraft.
Innovation Manager Arlette van der Veer says KLM used 3D printing to make practical tools that support the maintenance and repair process, something that is permitted by aviation regulation. "One such tool is a rim masking plug for Boeing 737 wheels. In the past, technicians would use masking tape when painting the wheels, but this would take hours and a lot. By sticking a plug in the hole, KLM saves 55 minutes per rim and 260 man hours."
In the past, it would take weeks and a lot of money to have such a plug made by a manufacturing firm. "Now, we take a day to make the plug ourselves. The rim hole can be 3D scanned, a drawing is made using intuitive software that requires little effort to master and then the plug gets printed. Any changes can be made on the fly."
Another example of a tool is when a bird strike damages the fairing or metal cover of an aircraft wing. In the past KLM would first make a one-time mould, which is time-consuming and costly. Now, a 3D scan of the fairing becomes the basis for a quickly printed 3D model of a mould.
KLM is experimenting with a broad range of materials, such as plastic made from biodegradable polyactic acid and PET, the material commonly found in plastic bottles. The printer can even handle polyamide-glass fibre composites, which are super flexible and strong.
KLM is also interested in exploring ways to use recycled plastic from its own waste stream. "We have already contacted companies who can extrude plastic filament from our bottles and have printed some tools this way. If we scale this up, we could decrease our environmental footprint and save costs."
The experiment shows the incredible potential of 3D printing. It is quicker, cheaper and creates more ergonomic tools. It also extends the capabilities of maintenance staff, which makes them a more valuable partner. "It also impacts the mind-set of technicians. They learn that if you can 'think' it, you can 3D draw it and print it."
KLM has a total of eight different printed tools in production and its ambition is to go up to around 100 and experiment with many different materials and technologies. "Our end game is to build 3D design engineering capability within Engineering & Maintenance. This helps us to get ready for the day after tomorrow where we start every job with a 3D model. We believe this is the digital way of the future."