KLM strives for operational excellence, delivering on the customer promise safely, effectively and at the lowest overall cost by integrally reshaping all products, processes, operational control, organisation and information. In 2017, this became hard to realise when Schiphol Airport unexpectedly released substantial growth capacity ahead of schedule. Necessity being the mother of invention, KLM devised creative operational measures that turned out to be so effective that they were made permanent in 2018. Nevertheless, KLM in 2018 needed to make its operation more stable and robust. Stable meaning operations has little variation and robust meaning KLM delivers its schedule as promised and quickly returns to it in case of disturbances.
KLM succeeded in 2018 on both counts, as witnessed on several days of extreme disturbances. One example is a power outage at Schiphol Airport that caused massive cancellation of flights, but by the end of the day KLM's operation was back to normal and no passengers were left stranded.

Innovation
Innovation played a key role in this. First of all, KLM introduced a new tool for rebooking passengers and communicating with them in the event of a disturbance. This incorporates a digital tool, digital kiosks at Schiphol Airport and a pool of 250 office staff armed with iPads who can be called to assist passengers in case of a disturbance. Parallel to this, KLM adopted a second approach to innovation that involves cutting-edge technology.
KLM and Boston Consulting Group have launched a unique partnership mid-2018 and developed a state of the art solution based on artificial intelligence, machine learning and advanced optimisation. The partnership offers tailor-made, integral and optimised decision making across departments and horizons, leveraging state of the art analytics keeping people at the core of decision making and execution. The jointly developed technology drives growth, accelerates innovation and streamlines operations to meet the growing demand of today's travellers. These so-called optimiser tools have been implemented already at KLM and have proven value in KLM operations.
The first tool to be used in a live operational environment is Vanguard, which predicts network disturbances with stunning accuracy. Co-created with KLM staff, Vanguard outperformed KLM's own people when tested in a real-live environment. Rather than having to react to the sudden cancellation of dozens of flights due to bad weather, Vanguard allows KLM to pro-actively reschedule flights and rebook customers. The tool went live in October, leading to significantly fewer cancellations. This reduces pressure on employees, increases the NPS and reduces non-performance costs.
In addition to Vanguard, KLM began working on Pathfinder, a tool that intelligently allocates 'tails' - basically aircraft licence plates – one day in advance. Pathfinder facilitates KLM to plan with greater accuracy which aircraft is going to fly where, which in turn optimises fleet utilisation. In 2019, KLM will work on three additional optimisers related to operational disturbances on the actual day of flight and optimising cabin crew and cockpit scheduling. These will help KLM achieve sustainable growth over the coming years.
Integrated approach
An integrated approach to optimising operations was another key theme in 2018. For example, KLM Ground Services replaced a number of KPIs used to track its operational performance to exactly one: the time earmarked for the turnaround of an aircraft. Every single Ground Services employee is now responsible for this one target, which encourages focus and cooperation. This has a positive effect on KLM's NPS. To achieve this result, KLM introduced continuous improvement and in line with the KLM Compass, staff has been empowered to identify and solve problems by working together across teams.
While KLM did well in 2018, it wants to do even better in 2019. To this end, KLM wants to ensure a stable network performance while preparing the operation for sustainable growth. From the perspective of operations, KLM in 2019 will focus on reducing turnaround times and creating a stable but flexible operation against the lowest integral costs. Furthermore, KLM will continue to avail of process optimisation and technologies such as optimisers.
Safety
It is KLM's ambition to be a leader in aviation safety. As part of the introduction of the High Performance Organisation, KLM created an integrated safety organisation that aligns operational, occupational, environmental safety and operational security. This integrated approach, using the best practises of the four domains, increases compliance and improves safety, which is needed to maintain the high level of safety while growing in number of flights and realising KLM's ambitious operational targets. External agencies and consultancies focussing on and rating aviation safety have, as in previous years, again indicated KLM as one of the leading companies.
In 2018, KLM introduced a document control management system that increases and secures compliance with laws and regulations. It also became one of the first airlines to have its ISO 14001 certificate renewed against more demanding environmental protection standards. Furthermore, KLM successfully completed the IATA Operational Safety Audit, which 60 other airlines use as the basis of their codeshare with KLM.
KLM took major steps towards increasing occupational safety by formulating a long-term occupational safety policy, which will be implemented from 2019 onwards. And in close cooperation with Schiphol Airport, Air Traffic Control the Netherlands and other airport partners, KLM founded the Joint Sector Integral Safety Management System. An international first initiative, which introduces a structured approach to proactively identifying and mitigating risks arising from interaction between the partners in the aviation sector at Schiphol Airport.
In addition to strengthening its safety processes, KLM continuously boosts its safety culture. This year staff followed digital and team-based training in Just Culture, which aims for an environment in which mistakes can be safely reported and learnt from. In 2018, KLM received 13,000 reports with early safety indicators, an increase from the previous year. This means KLM's reporting culture is improving and that KLM is able to be more pro-active and predictive in mitigating safety risks. KLM also began testing a safety reporting app that will further simplify and invigorate safety reporting, which will be rolled out to all 35,500 staff in 2019.
KLM Cityhopper
KLM Cityhopper, a fully owned subsidiary of KLM with its own air operator certificate, operates 52 per cent of KLM's European network. The year 2018 brought a range of improvements, including the new green destination Växjö, a new business class meal and faster training process for new cabin crew by using Virtual Reality tools. Furthermore, KLM Cityhopper successfully completed the IATA Operational Safety Audit.
The arrival of seven new Embraers in 2018 marks the end of the transition from a fleet of Fokkers to more fuel efficient and cost effective Embraers. The fleet now comprises 32 Embraer 190 and 17 Embraer 175.
KLM Cityhopper also reorganised its hangar at Schiphol Airport to allow for the introduction of the Pit Stop concept, which means faster turnaround times on maintenance. The hangar was also renovated in line with the Winning Way of Working, which provides employees with a sustainable and empowering office environment.
Cargo activity
KLM Cargo aims to be the customers' preferred partner by delivering on promises in a transparent and easy to connect way at a competitive price. To realise this ambition, KLM Cargo has been focusing on optimising belly capacity, growth in e-pharmaceuticals and e-commerce and digitisation. This strategy is paying off and leading to a further improvement of the KLM Cargo contribution to the Network business results, including improved performance of the freighters.
As part of KLM's fleet renewal program, the 747 combi aircraft are gradually being phased out. The number of full freighters remained at four, but the available belly capacity on wide body aircraft grew further as planned. As a result, total cargo capacity decreased slightly by 1.9 per cent. In spite of this, KLM was able to capitalise on positive market conditions, with an average freight ton kilometers growth of 0.1 per cent.
In 2018, KLM Cargo continued its digitisation drive to increase customer satisfaction, operational quality, compliance and efficiency. New functionalities were added to MyCargo, an electronic platform that allows customers to manage their shipments online, which helped to offer personalised service to small and medium size customers in a brand new way. The use of MyCargo more than doubled in 2018.
KLM Cargo also introduced automated checks on completeness and compliance of booking information, which sped up the acceptance process at Schiphol Airport. Currently, 90 per cent of shipments are accepted using the new digital application. The Track & Trace application that sends information via push messaging to email or phone was upgraded. By automating such tasks, front-line staff has more time to focus on the customers and complex shipments.
KLM Cargo also contributed to KLM's overall sustainability results. In cooperation with an external company, lashing straps used to secure cargo in the hold are recycled into cushions or shopping bags. With regard to sustainable employability, in the cargo building at Schiphol Airport a Golden Bay was especially set up for older workers. The same quality and productivity targets apply, but working conditions and equipment such as forklift truck seats and workstations are specifically adapted to the target group.
Engineering & Maintenance
Engineering & Maintenance (E&M) provides KLM and other airlines with competitive aircraft, engine and component maintenance and engineering support. E&M contributed to KLM's financial result through revenues from a growing number of third-party contracts by focusing on the newest products. In 2018, E&M reduced the A-Check turnaround time, prepared for Component Services 2.0, including Business Process Redesign, and improved aircraft availability by enabling predictive maintenance and big data. E&M is also finalising the cabin modification upgrade program for the Airbus A330. Moreover, E&M was granted LEAPx (Boeing 737Max) maintenance permission by the US Federal Aviation Administration (FAA) and performed the first LEAPx Engine maintenance.
Innovation played an important role at E&M. E&M started using RFID, developed better training modules using Microsoft's HoloLens and augmented/virtual reality, made further use of robots, and created innovative ways to repair parts with the use of 3D printing (see story Pioneers of Electric Equipment). In addition, E&M continued implementing the High Performance Organisation and increased employee ownership by further implementing teaming and a culture and behaviour program.
Transavia
In 2018, KLM's low-cost subsidiary improved its operating result, achieving EUR 75 million compared to EUR 72 million in 2017. Transavia commenced with the implementation of a sharpened strategy, which has already started to pay off. The load factor was 91.8 per cent compared to 90.5 per cent in 2017.
Transavia remains the number one low-cost carrier in the Netherlands in terms of capacity and is the second most preferred airline after KLM. Transavia pursued four strategic themes. First, laying the basis for an improved customer experience by becoming a more customer centric organisation. Second, to further develop the agility of the organisation so as to increase both the employee experience as well as performance. Third, to improve operational performance with integral planning. And finally, the roll-out of the sharpened positioning and brand values, focusing on external as well as internal branding. Part of the external roll-out of this brand strategy was broadcasted on Dutch television.
In line with the fleet strategy, Transavia started with the early phase-out of the Boeing 737-700 aircraft, selling one of eight. 2018 was also marked by successfully renewing the collective labour agreements for the period up to April 2020, for cockpit, cabin and ground staff. Overall, Transavia laid the foundation for continued sustainable development in 2019 and beyond.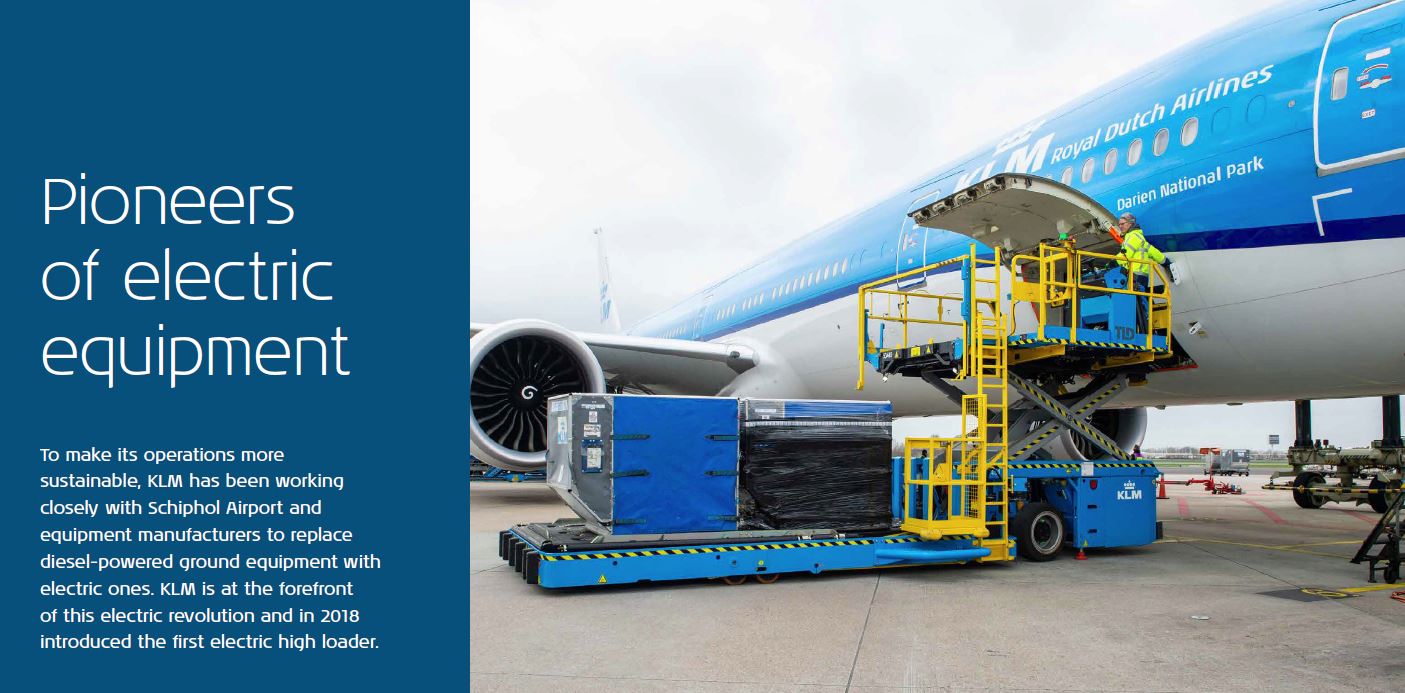 The ground support equipment around the blue KLM aircraft is vital to ensuring safe operations and fast turnaround. Tow trucks, power generators, air conditioners and belt loaders are some of the motorised equipment needed to make the magic of flight possible.
That magic is not necessarily clean, though. Traditionally powered by diesel, such equipment generates plenty of noise and emits CO2 and soots particles that ground staff inhale. So, to create a healthier work environment and contribute to a safer, more sustainable operation, KLM has begun to electrify its equipment.
That is easier said than done, according to Team member Large Equipment Nico Parlevliet. The first issue is the limited supply of good electric alternatives. "Either an electric version doesn't exist or the one that does has a bulky battery with low capacity, which severely limits our ability to service many aircraft during the day."
KLM has been one of the first airlines to embrace electrification and this pioneering position meant it had to pro-actively engage with manufacturers to specify needs and get them to develop new equipment. This can take a few years, however, and lots of diligent work.
So back in 2016, KLM contacted several manufacturers of high loaders, a heavy-duty elevator that lifts cargo up to the belly of an aircraft. "We gave them our specs, they developed prototypes and we tested them on the ground to measure how it performed."
Ultimately, KLM opted for a new highly sophisticated loader which can work at a broader range of heights and angles to accommodate the concave surface of the Schiphol Airport platforms. Battery-wise these loaders have a smart feature: they generate electricity when the platform descends.
Another challenge with electric equipment is that, while diesels can be quickly refuelled on the spot, electric equipment takes a long time to charge using a charger in a fixed location at the airport. "We worked closely with Schiphol Airport to ensure that chargers were built and the electric grid was adjusted accordingly."
Electrification is not cheap, but it is worthwhile. "Staff work in a healthier place, the impact on the environment is lowered and electrified machines are quiet, which increases safety."
The loaders are just the tip of the iceberg, however, as KLM has around 50 types of motorised equipment. In principle the aim is to electrify all of them. "A few years ago people were sceptic of electric and I had to work hard to make a business case. Now I need to have very, very good reasons to opt for diesel instead of electric when replacing old equipment."
In 2019, electrification will continue at a zippy pace. The majority of the new loaders will be delivered and the baggage towers, now with a hybrid engine, will be made fully electric as well.