When KLM launched its new strategy in 2015, it also set about transforming the organisation. The roll out of the High Performance Organisation, shrank management layers and brought more integrated and agile decision-making, while the new KLM Compass connected people's values and behaviours with KLM's purpose. All collective labour agreements were modernised and digital tools made it easier to cooperate. As a result, KLM became more productive, effective and cost-efficient

.
In 2018, KLM further developed this foundation. New collective labour agreements for ground personnel, cabin crew and flight crew create stability until June 2019. In addition, the high level of absenteeism, especially in the physically demanding business units, has been tackled. Managers were trained to conduct interviews with employees. In line with the KLM Compass, employees are challenged to become owners of their return to work and indicate what they need to be able to return to work.
As a result, absenteeism decreased from 6.93 to 6.74 per cent in 2018. In addition to the focus on reducing absenteeism, prevention of absenteeism will be in scope in 2019. For example, more attention will be paid to the employee and the sustainable 'fit' with regard to his or her work. Moreover, interventions such as online physiotherapy and coaching tools are available to enable employees to anticipate early, before health issues become structural.
Leadership and team development
KLM specified leadership behaviours based on the KLM Compass and began to align these with existing leadership development programs, as well as developed programs for priority groups such as shift leaders, first-time managers and female talent. Furthermore, in 2018 KLM continued the team development program, training 580 teams with more than 8,000 participants until the end of the year.

KLM also initiated Strategic Workforce Planning, which will enable it to attract and retain the right people at a time when talent in certain disciplines is hard to come by. In 2017, KLM mapped its entire workforce, looking at the projected influx and outflow of staff for the next five years, as well as the gap between available and required capabilities. Based on this outcome, a more concrete plan to train people and attract talent has been developed around four areas, namely mobility, productivity, digital and Engineering & Maintenance resourcing. A number of divisions began implementing this plan in 2018.
Furthermore, KLM began to introduce the Winning Way of Working, which translates KLM's Compass into the physical environment by integrating real estate, culture and digitisation. KLM has made a multi-year plan for the renovation of its 80 buildings in order to make them more safe, healthy, productive and inspiring. A design guide was made that incorporates sustainable practices such as recycling, reducing energy usage and indoor climate.
Employee promotor score
KLM started using the Employee Promotor Score (EPS), the internal cousin of the Net Promotor Score that measures customer satisfaction. On an organisational level, a selection of employees is asked whether they would recommend KLM as an employer. The results are shown on TV screens across all of KLM's buildings and in 2018 the average EPS score was 61.
In addition, around 35 per cent of teams began using EPS to determine whether team members would recommend their team to someone else. By tagging on a set of short questions related to the KLM Compass, EPS helps to engage leaders and team members in a dialogue around issues that need addressing. EPS team discussions are not compulsory, but KLM would like 60 per cent of teams to use the tool by the end of 2019, because a higher EPS means more engaged staff, which in turn translates to a higher NPS and lower rates of absenteeism.
Sustainable employability
KLM's renewed organisation-wide focus on sustainability also inspired to come up with ways to make KLM a more welcoming and inspiring employer for every single employee. As of 2018, all ground staff have been given the opportunity to spend 1.93 per cent of their annual salary on their professional development. This is in addition to the one-off EUR 7 million Development and Training Fund for ground staff introduced in 2017. In 2018 this fund has been fully utilised by almost 8,000 staff for some 14,950 training programs, 3,750 online tests and (financial) online advice.
KLM is embracing the power of Diversity and Inclusion (D&I), because a diverse workforce performs better than a more homogenous one and true inclusion enables KLM to have better customer understanding. KLM's Diversity Circle, consisting of among others KLM Executive Committee members, sets the D&I strategy and leads the way towards the realisation of the various D&I targets and objectives. The strategic pillars vary from increasing awareness of the importance to have D&I to embed in the various management teams to hiring and retaining talents. For this reason, KLM also supported employee networks for specific demographic groups, for example the Women on Board network (see story Boosting Diversity and Inclusion across KLM). In addition, KLM continued its work on Inclusive Aviation, a program initiated in 2015 with Schiphol Airport and some 35 companies in the wider Schiphol Airport community. The program aims to create more sustainable jobs for people with work limitations, such as an illness or handicap.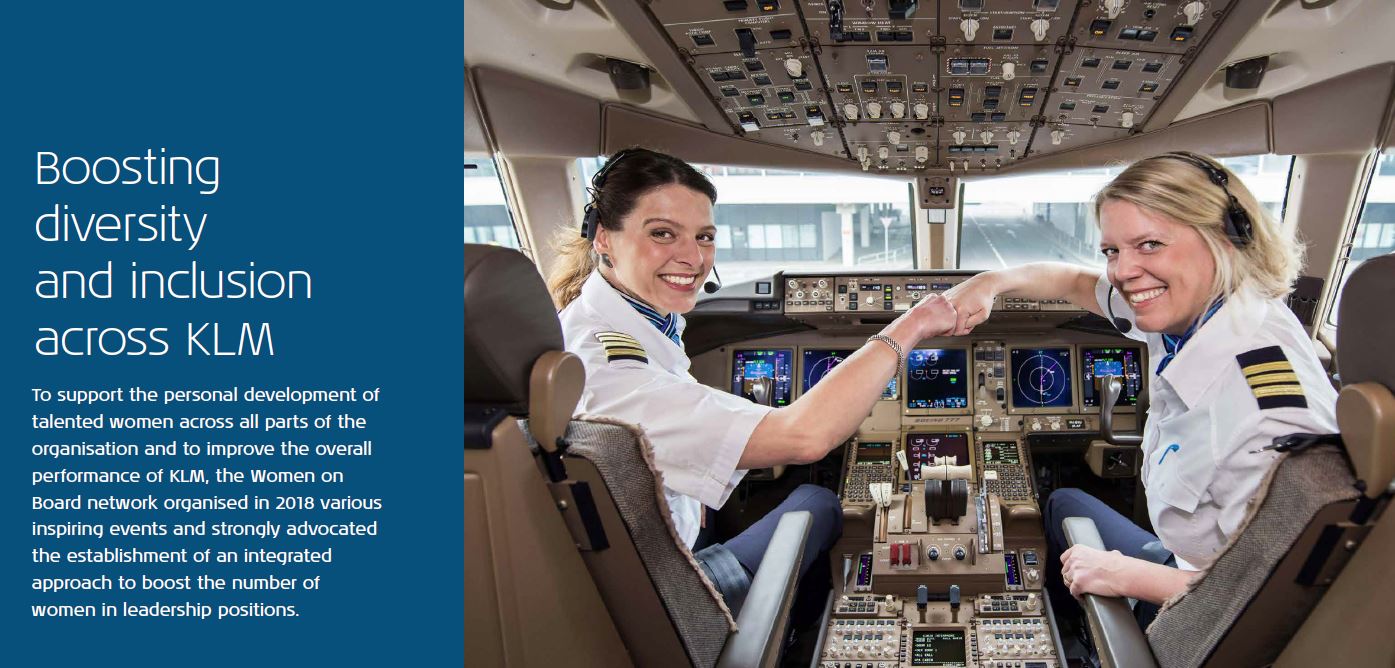 KLM has traditionally been a more masculine organisation, but the changes and challenges in the outside world have forced it to adapt. The KLM Compass, introduced a few years ago, links the company's purpose to a set of values and shows the balanced need of both masculine and femine labelled behaviour.
In terms of diversity, though, KLM has some way to go. A homogenous culture is self-sustaining and shuts out alternative qualities and perspectives, a vicious circle that requires conscious action to be broken.
The Women on Board network, one of the democratic networks which KLM actively supports, aims to do just that. "Diversity, inextricably linked with that inclusiveness, is key to the future of KLM. To really get the KLM Compass in our DNA, we need to increase support and opportunities for women. As focusing on one diverse group will inevitably support other diverse groups and that in turn will lead the way to true inclusiveness" says Tina Bergsma, Vice President HR & Senior Business partner Commercial, Corporate and IT.
Women on Board was set up with three goals in mind: to encourage concrete steps towards gender diversity, connect and inspire women from different divisions and encourage personal development. The network organises events, featuring speakers and workshops, that align with the KLM Compass. "We want to support and empower women to become authentic leaders who can unlock their potential."
Women on Board clearly meets a need. In 2015 there were only 50 members, but in 2018 that number shot up to 1,000 women from all divisions and levels of KLM.
While diversity is beneficial to individual women and men, the broader story here is that diversity has a positive impact on the performance of the organisation. "More diverse organisations are known to attract more talent, be more customer driven, have higher employee satisfaction, make better decisions and are more innovative and creative."
As part of KLM's growing support for diversity and inclusiveness, Women on Board received a powerful boost in 2018. "The Board of Managing Directors is fully supporting us and has given us a mandate to find ways to promote gender diversity. We researched best practices in the corporate world and came up with an integral plan connected to KLM's growth ambitions."
From 2019 onwards, there will be a specific 2025 target in the Flight Plan for the number of women in the top of KLM. "This means we need to align action across a range of issues, from talent management and leadership development to coaching, sponsorship and mentoring. This will create a steady pipeline of talented women in managerial and executive positions."