When history meets innovation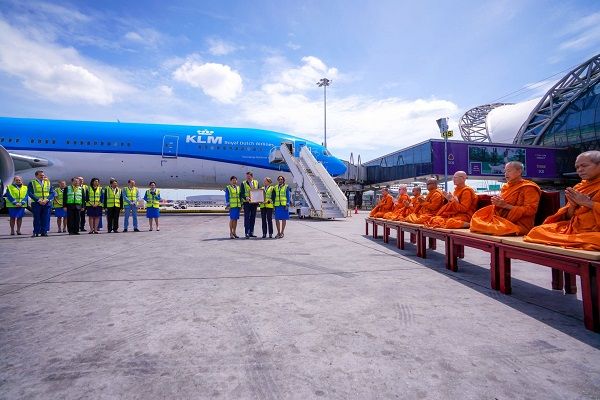 In 1924, five years after the foundation of KLM, KLM already carried out the first flights on Batavia (currently Jakarta), in the then Dutch East Indies. From 1929 onwards these became scheduled services. Incredibly fast for that time and it underlines the entrepreneurship and pioneering spirit in our KLM DNA. This trip to Batavia had a duration of 11 days with different stopovers. One of these stops was Bangkok. This is why this year we not only celebrate 100 years of KLM but also 90 years in cities such as Jakarta and Bangkok.
Last Monday I was in Bangkok to commemorate these 90 years but also to return the plaque "City of Bangkok" to the city. In 1989, the second KLM Boeing B747-400 (PH-BFB) was christened "City of Bangkok". In appreciation, the city of Bangkok then gifted us with a plaque during a ceremony with Thai monks at Schiphol, which we placed on board.
In November 2018, 30 years later, the PH-BFB "City of Bangkok", after 120,000 flight hours and 6 million passengers, went on a well-deserved retirement. We gave the plaque back to the governor of the city last Monday, which completed the circle.
Diversity & Inclusion
We often talk about it. We often make many plans for it. And rightly so, because it is a very important topic for KLM, but also for society in general. At the same time, there "are" concrete and beautiful diversity and inclusion examples. On this short visit to Thailand I encountered two: a female captain on our Boeing B777 and the first female engineer in Thailand who works at our big Line Maintenance unit. Both a source of inspiration for others. I think it is nice and valuable that we have these colleagues at KLM.
Sustainability in Asia
After Bangkok, I continued the same afternoon to Singapore, where our history counts up to 86 years. There was a lot of positive media attention there for our sustainability initiative "Fly Responsibly". During two live interviews with CNA and CNBC, two major Asian news channels, I had a great opportunity to explain how KLM takes its responsibility on this topic.
SEAO Power
Singapore is also our SEAO AF-KL regional office for Passage, E&M and Cargo. A very dynamic region that is rapidly developing economically. Singapore is a logistical-, technological- and financial hub in the region, surrounded by countries such as Vietnam, Philippines and Indonesia, all of which are emerging economic powers.
During a presentation at the "Economic Development Board" of Singapore I let myself catch up on current developments and the long-term strategy of Singapore. This in turn provides us with tools for developing our KLM strategy.
In this region, with large capacity of strong local carriers and an abundance of Gulf carriers, our AF-KL team still knows how to make a difference and ensure that we maintain our position. During an office visit, I was able to see how all disciplines and businesses are contributing to this.
The economic growth and many airlines not only provide competition, but also opportunities. For example, we have a large Line Maintenance in Bangkok for twenty customers and an AFI-E&M unit in Singapore for our customers for AFI-E&M. In this way, every threat also creates opportunities.
It was fun and inspiring to see how the collaboration and interaction between Passage, Cargo, Operations and E&M makes us strong and stimulates a more integral approach! Many thanks to all the colleagues in the SEAO teams for their informative presentations and enthusiastic explanation.
#RunTheWorld with KLM
"Fit and healthy towards our 100". I made that statement in 2014 with regard to the KLM results, our competitive position, our fleet and our customer experience.
'Fit and healthy' applies to the company, but also to our employees. The team in Singapore surprised me with the invitation for a 5.5 km early morning run at 6:20 through Singapore with about 25 colleagues. The best way to start the day!
Keep on moving
As said, the company is in good shape but we must remain sharp and responsible. The world is not standing still and rising fuel prices, Brexit and developments between China and the USA have their effect on our current results.
In addition, it is also about our relative position in relation to our competitors and the benchmark with regard to their costs and results. We have already invested a lot in the last four years, but with that, in a way, we only made up for the backlog after the crisis of 2009 (until 2013). Moreover, substantial investments in fleet, staff and digitization are also awaiting us in the coming years. In short, we will have to continue to run a tight ship.
I think it is a shame that the CLA-discussions with the unions have been terminated at this moment. In these discussions, each of the parties has its own responsibilities. There is much more that connects, rather than separates us. After all, a future in which KLM is and remains "fit and healthy" in the coming years is our shared interest. I am therefore confident that together we will reach a solution in a constructive way.
Start of summer
In the meantime, the summer holidays and thus the busiest weeks of the year have started. Last night I flew back on board of a full KL836 SIN-AMS. It's great to see how our exceptional crew, again, know how to make a difference for our customers. I also enjoyed seeing, both on the way to Bangkok and back from Singapore, that all colleagues proudly wear our KLM100 pin and look forward to the festivities in October. Good luck to all colleagues in operations in the upcoming period.
My next column is at the end of this month with an update around the half-year figures.
Until the end of this month,
Pieter